Due to the weather, the softball games have been cancelled.

Middle School and High School Parents: Enrollment is Friday night from 6:00-8:00 pm in the Event Center. Students - bring your school supplies and set up your lockers! Schedule changes will be available.
UPDATED PRICES: USDA has decided that school meals will no longer be free to all students as they have been the last two years. Please complete a free/reduced lunch application. This information will be used to determine free/reduced meal eligibility, and is also used to calculate funding for our school. A student lunch will cost $2.50, and a student breakfast will cost $1.75. Please prepay for student meals.
Students MUST have a physical turned in to practice/play sports or cheer. If you do not have a physical, you cannot practice or play.
Electronic Device Policy Reminder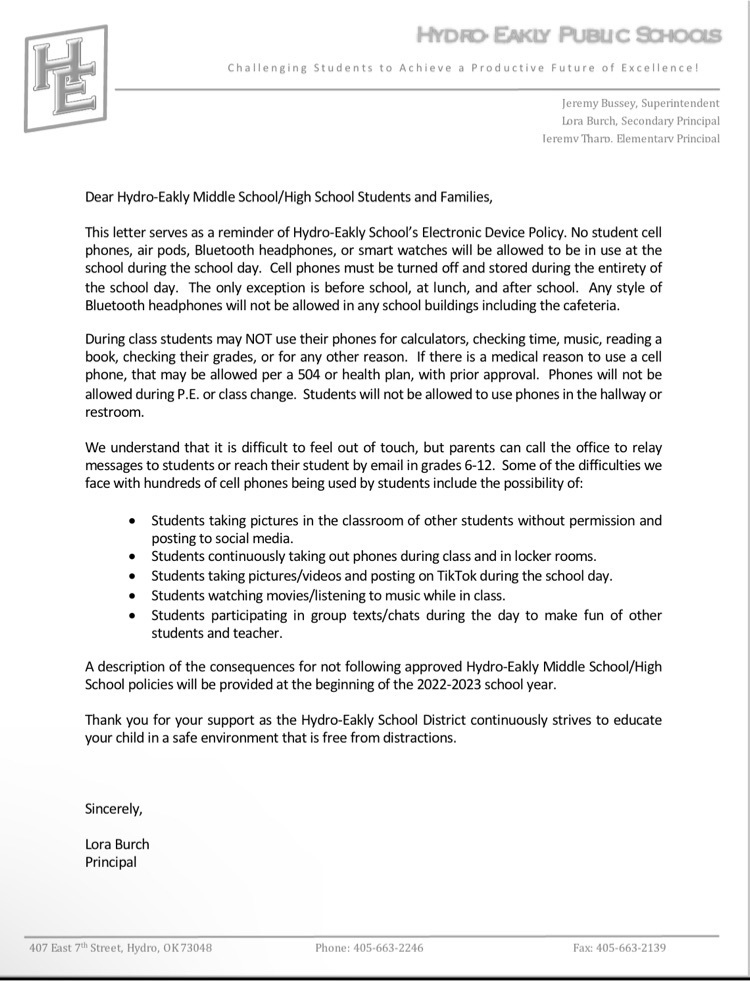 7th Grade Parents: Students who have not provided their updated shot records showing their TDap shot will need to do so prior to the first day of school in order to attend.

Online Enrollment is LIVE for current students! Enrollment Steps: 1. Go to
www.hydroeakly.k12.ok.us
2. Click Gradebook. 3. Sign In (If you have forgotten your password, you may click Forgot Password. If you need additional assistance, we will provide it at enrollment.) 4. Click Applications. 5. Click Student Records Portal. 6. There will be two tabs: Enrollment & Lunch Application. Meals are NOT free this year. It is very important that lunch applications be filled out so that you are billed accurately for your child's meals. This information also allows the school to receive additional funding. 7. Under the Enrollment Tab - Click Enroll Student- 2022-2023. Go through the 3 Steps to complete their enrollment. On the Documents Tab, you will fill out the Home Language Survey. You will be asked to enter the date that your child first entered school. You MUST enter the full date MONTH/DAY/YEAR. (It doesn't have to be exact.) 8. Once you have a Green Checkmark next to the required documents, you will click submit. 9. Under the Lunch Application Tab, you will complete the Lunch Application. You only need to complete ONE per family. Once you have filled out the information, you will click the Green Checkmark. This form will not disappear once you have clicked the checkmark, but it will be submitted. You will have to close the window to exit out. 10. If you run into any problems during the enrollment process, please remember that we will be having Enrollment from 6-8 pm on Friday, August 5th. 11. Middle School and High School Students - Your schedule will be available through Online Gradebook on Monday, August 1.
Athletic physicals will be offered on July 12th at the Event Center from 4:00-6:00. All 5th & 6th grade students must have a physical. All 7th-12th grade athletes & cheerleaders must have a physical. You will not be allowed to practice until you have a physical. The cost is $10. Students MUST have a parent in attendence. There is a new form that requires a notary. We will have a notary on site. If you have any questions regarding physicals, please call the school at 405-663-2246 Monday -Thursday from 9:00-12:00 or email Mrs. Burch at
lburch@hydroeakly.k12.ok.us
.
All-State Games Girls Basketball - Saturday, June 4 at 2:00 Mustang High School Rees & Kira Berkey Jeremy Tharp - Coach Boys Basketball - Saturday, June 4 at 5:30 University of Central Oklahoma Nolan Gore Baseball - Sunday, June 5 at 1:30 Enid High School Carson Propps
Summer School starts Wednesday! * Students must have been invited to attend. * Bus route provided for out of town students. * Pick up at Swan Lake at 8:00 am. * Pick up at old Eakly school site at 8:15 am. * Breakfast served to Summer School students at 8:45. * Classes from 9:00-11:00. * Lunch served to Summer School students at 11:00. * Buses leave at 11:15.
JH & HS Girls Cache Team Camp - Bus leaves at 6:50 from Event Center. No Summer Pride. Bring $30 for Camp & money for lunch.
Summer Office Hours: Monday - Thursday 9:00 AM - Noon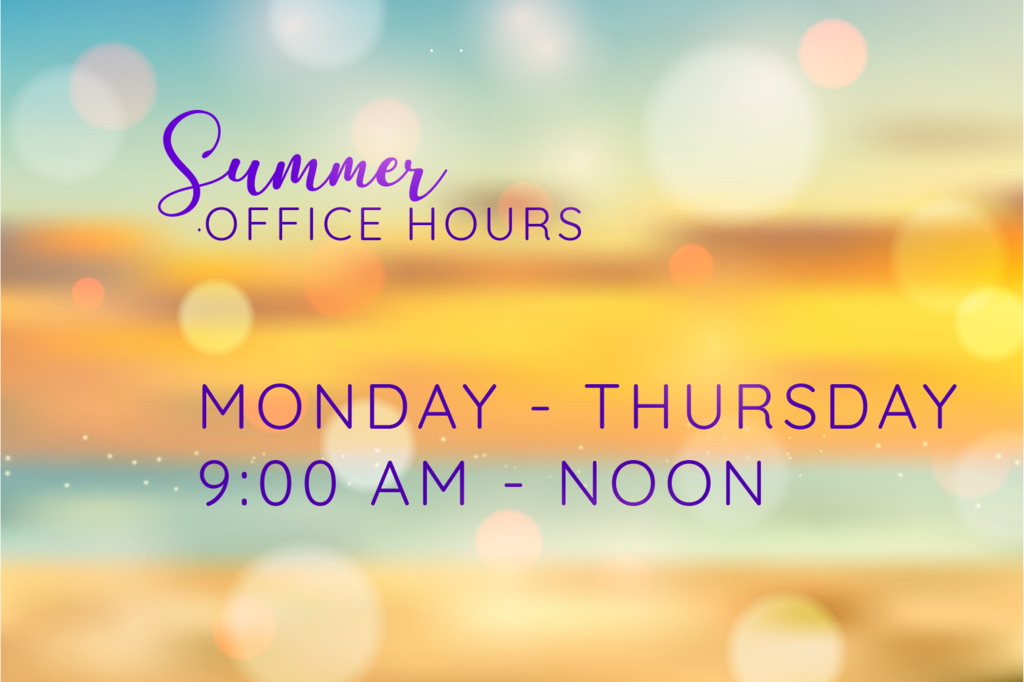 Summer Camp MS Musical H-E Event Center TODAY, May 17 at 6:30pm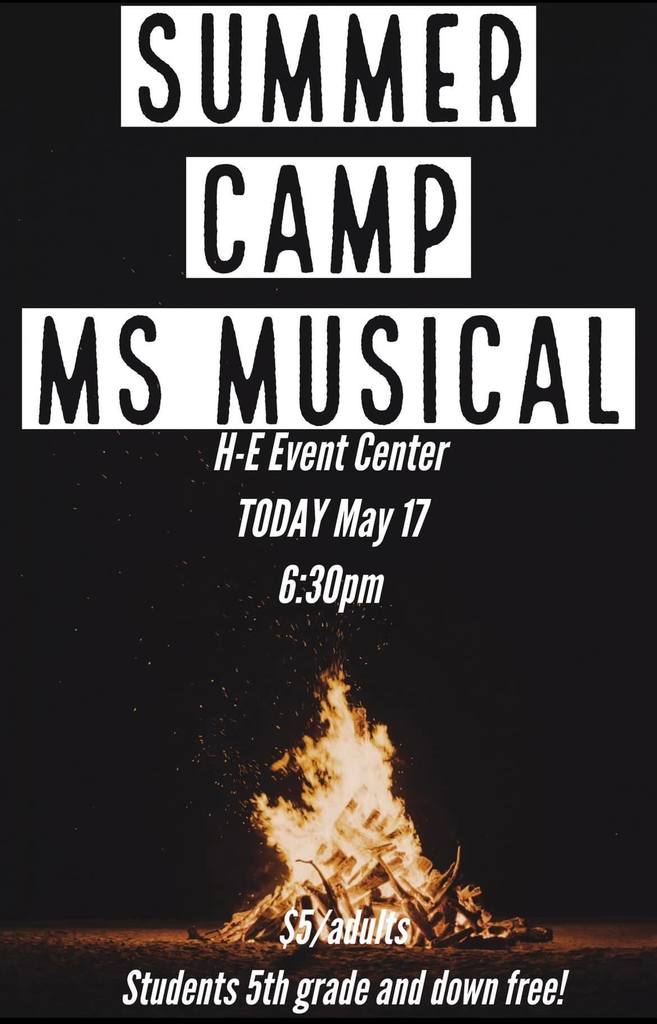 Attention H-E Junior Parents! Oklahoma Promise, FREE COLLEGE TUITION for qualiying students, has extended their deadline to apply to Juniors with a June 30, 2022 deadline. - To qualify applicants must be students whose parents' federal adjusted gross income does not exceed $60,000. - Students must have a 2.5 cumulative GPA. - Apply online at
www.okpromise.org
- For further information contact Linda Beerwinkle, H-E HS Counselor - 405-663-2246
Pre-K Pre-Enrollment will be April 11-21. Call Barbara at 405-663-2246 to schedule an appointment.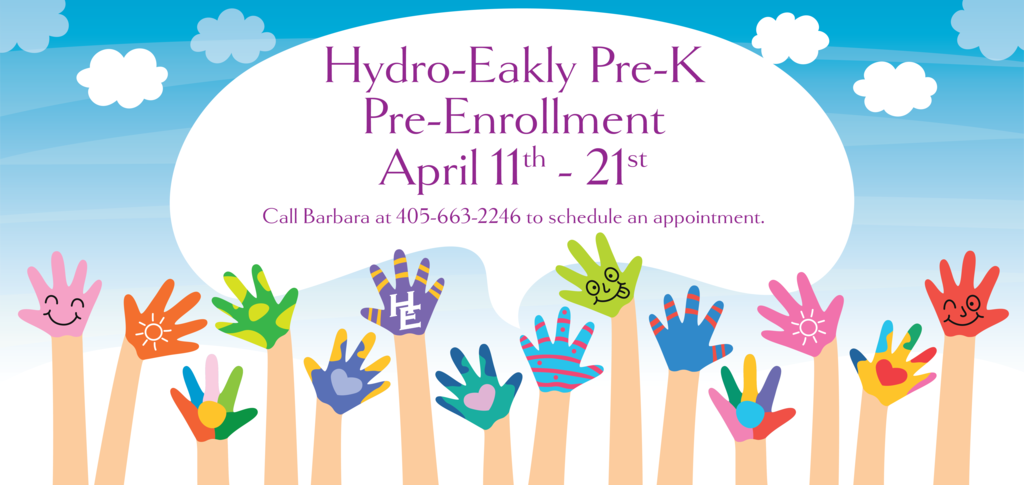 Hydro-Eakly Public Schools will open at 10:00 AM on Friday, February 25th. Most roads in the school district are clear and dry. Please use extra caution at intersections, in the town of Eakly, and near the school campus. As always, if road conditions are unsafe on your path of travel, call to let us know. We can get your child caught up in class later.
Due to sleet-covered roads, Hydro-Eakly Public Schools will be closed on Thursday, February 24th.
Due to the possibility of dangerous road conditions, Hydro-Eakly Public Schools will be closed on Wednesday, February 23. Thank you for understanding as we try to keep our students and employees safe. (There will be no virtual learning.)
Hydro-Eakly Public Schools will close at 2:00 PM on Friday, February 25 to allow students and employees to attend the Area Basketball Tournament. Go Lady Bobcats and Bobcats!

Junior High Basketball games will be played as scheduled beginning with 7/8 boys at 5:30.